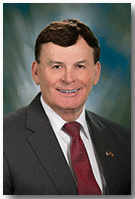 I was born and raised in Anchorage, Alaska. I am a graduate of George Washington University and the University of Baltimore School of Law, and prior to 2004 had spent much of my career specializing in real estate law, tax law, and trial litigation.  I am a member of the Arizona Bar and an active member of the Yavapai County Bar Association.
I believe that learning should never stop. That is why I am finishing a Masters Degree in teaching English as a Second Language to Arizona's large non-English speaking population.
As a small businessman, I've spent my life in the private sector, creating jobs and economic growth. As a civic activist, I've been a taxpayer advocate, standing up to liberal politicians who wanted to raise taxes and grow the government. Now, as I complete my first term in the State House, I can point to my record of cutting taxes, boosting classroom funding and teacher pay, reducing regulation, and boosting Arizona's status as a top-job creating state. It has been great to work with State Representative Noel Campbell and our district has been well served by having a strong team that works together. Standing up to liberal special interests has earned us a primary from a nice lady who thinks that our conservative record is bad, but that's okay. The voters should have the opportunity to make that decision. We'll continue to fight to restore our Constitutional rights, defend the 2nd Amendment, secure our border, defend state sovereignty, stop Common Core, cut government regulations, encourage rural job creation, advance water and forest health issues, and we will give our whole district—from Anthem to the Verde Valley—a strong, conservative voice.