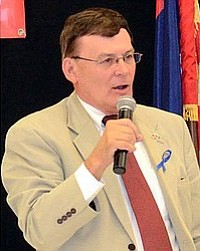 Arizona's recovery from the Great Recession was slower than many states because of our dependency on construction and tourism, Both of these industries were severely impacted. But economic growth is now strong again and we have regained our status as one of the fastest growing states. Arizona needs to maintain strong, pro-business policies. This means keeping taxes as low as possible to promote investment and and to grow our economy.
A second issue facing our state is education funding and improving the quality of our public schools. I am a strong supporter of parental choice in education, raising academic standards, and increasing school funding without raising taxes.
A third issue is improving our infrastructure. I campaigned on a fix to I-17 that did not  involve a toll road. ADOT recently announced a plan to build new lanes on I-17 without the need for tolls or higher taxes. We need to keep the pressure on ADOT to fund other county projects.